Lady Sybil sex naked photos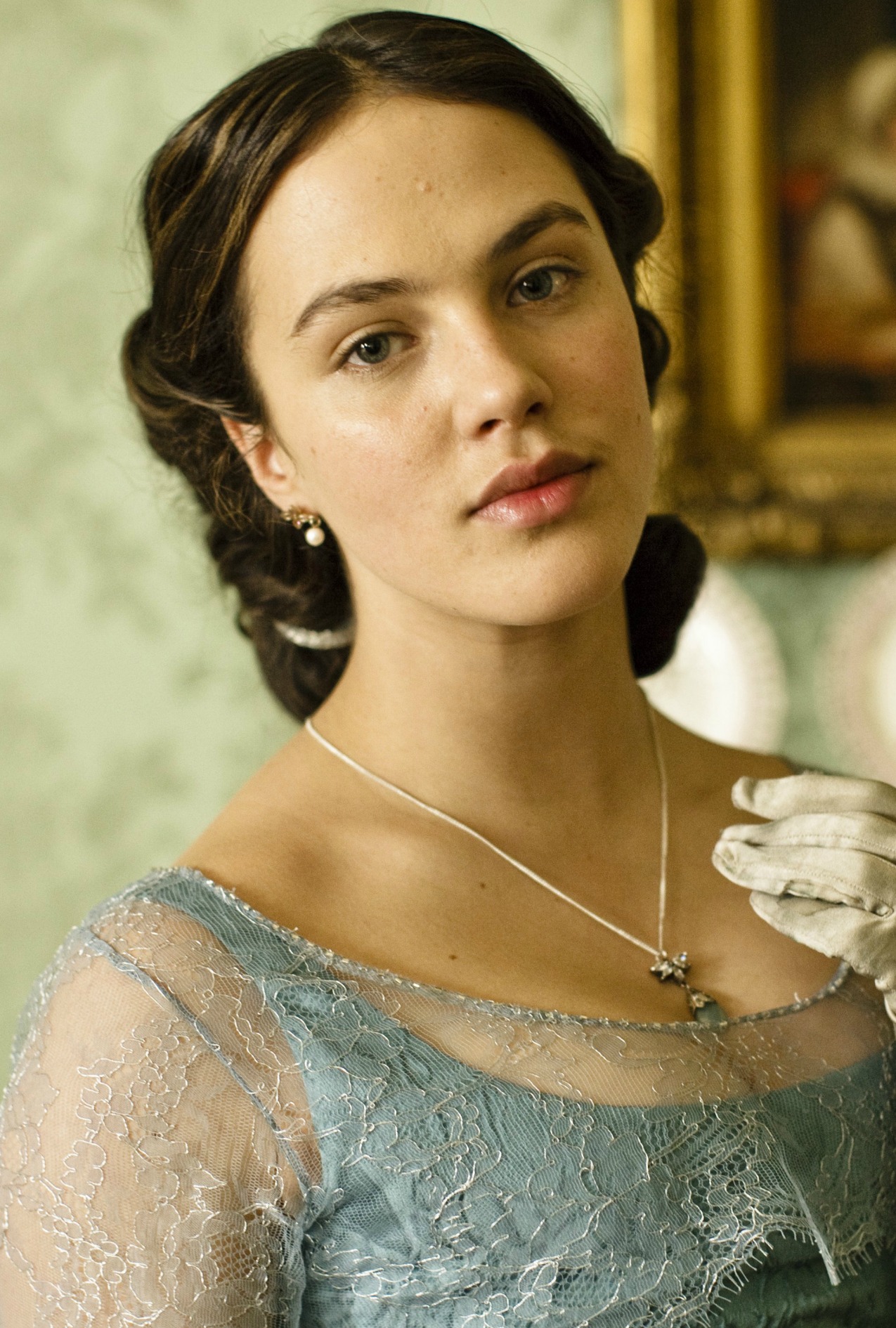 Jessica Brown Findlay on the real reason she left Downton - and why she relished her unglamorous role in a gritty new adaptation of Jamaica Inn
Published: 22:31 BST, 18 April 2014 | Updated: 19:32 BST, 22 April 2014
13
View
comments
There's a reason why Jessica Brown Findlay is attracted to playing determined and stubborn young women. She's rather determined and stubborn herself.

The actress who found fame as rebel Lady Sybil in Downton Abbey was the first of the show's big stars to jump ship two years ago because she didn't want to be typecast.

It was a leap into the unknown – she'd gone from being a television novice to appearing in a lead role in one of the biggest shows in the world – and she knew it was a huge risk. Even her castmates tried to talk her out of it, but she insisted on leaving.

'I was much more afraid of becoming too comfortable in the Lady Sybil role than I was of leaving it,' she says. 'It's great to be in something that people enjoy but I didn't want to play Sybil for years and then discover it was the only thing I could do. That was a much more terrifying prospect than unemployment, so I took a deep breath, crossed my fingers, and leapt into the abyss.'
The actress who found fame as rebel Lady Sybil in Downton Abbey (centre) was the first of the show's big stars to jump ship
It's a risk that appears to have paid off. Since she was killed off in childbirth on Downton in 2012 Jessica hasn't stopped working. But if Lady Sybil was the part that made her famous, her latest role as flawed heroine Mary Yellan in a new TV adaptation of Daphne du Maurier's classic gothic smuggling novel Jamaica Inn is the one that will show she can really act.
'I don't think I've ever wanted a part more,' she says, hugging her knees with a big grin on her face as she talks about Mary. 'And I don't think I've ever been so excited to get a job. I thought the script was incredible, Mary was incredible. It had something about it that I'd never read before and I never dreamed I would be allowed to be a part of it.'

The lavishly muddy three-part BBC1 series is the third adaptation of Jamaica Inn, following an ill-received film by Alfred Hitchcock and a Jane Seymour TV version in the 1980s.

It tells the story of Mary Yellan, who goes to live with her aunt on the Cornish coast in 1820 after her mother dies leaving her an orphan, only to discover that her uncle, the landlord of Jamaica Inn, is a fierce brute at the heart of a huge smuggling operation. For Jessica, a mature 24-year-old, one of the biggest pluses was the challenges it would bring. 'It's not a fluffy girly story; it was so exciting and I loved the darkness of it. Mary is stubborn to a fault, she's very flawed but she also has a strong heart and a moral compass.'

Jessica had gone from being a television novice to appearing in a lead role in one of the biggest shows in the world
The drama was shot at the end of last year in freezing, soaking, windy conditions. There were two weeks in Cornwall, filming mainly on Bodmin Moor and at Holywell Bay, a surfers' beach near Newquay, and then another five weeks in Yorkshire where the inn – which was made to look partly like a Wild West saloon – was created using Cornish stone built on to the carcass of an old pub in hills above Huddersfield.

Sometimes it was so windy that filming had to be stopped for fear that the lighting rigs were going to fall over; on one particularly wintry day bits started flying off the roof of the dilapidated building.

But, no prima donna, Jessica loved every minute. 'It was challenging because the whole crew was out in the open for so much of the shoot,' she says. 'We were up on these incredibly boggy hills and then in choppy seas, but it was exhilarating in the sense that you felt like you were actually really working rather than being paid to just dress up. I love that and it felt as if I was able to indulge and be in Mary's world more.'

Jessica says she was filthy for seven weeks. 'When you're in a studio it feels pretend; I hate it and I'm not very good at it. With this shoot it was real and there was a certain level of fear too. We were in the sea and might have drowned. There were moments when we'd go under and couldn't see and wondered which way was up but we all had a lifeguard who would turn us around.
And when it came to the inn it was so incredibly muddy outside that it changed the way you walk; you just can't do it elegantly. And those long dresses we had to wear drink up mud and rain. I was really grubby for seven weeks. I don't know how many people would enjoy that but I loved it.

'One evening after we'd finished filming I had to go to the chemist and I still had dirt ingrained in my hands. They said "Do you pay for your prescriptions?" and when I said yes they asked, "Are you sure?" I thought it was a bit weird and then I looked at myself in the mirror and realised I had mud all over my face and a cut lip. "Ah, that's why," I thought.'

With her modern blunt fringe and pared-down make up Jessica is almost unrecognisable in the flesh, despite Lady Sybil having been seen by millions over three series, and it's little wonder she's rarely spotted in the street. She looks different again as Mary; not only is she covered in mud but she's also completely make-up free.
But, no prima donna, Jessica loved every minute of her time on the hit show
'Before we started filming the head of hair and make-up called me and said they'd decided to make it minimal, and I said I hoped there'd be no make-up. It would be ridiculous if everything else was as it should be but we all looked perfect and were clearly wearing make-up.

'Normally when it's cold and miserable you have someone running up to powder your nose, but on Jamaica Inn I have blotchy cheeks, blue lips and a red nose, which is great because that's how Mary would really have looked. I hate it when you watch something and it's raining but the character comes inside and their hair is lovely and – oh look, she's had a manicure. I hate all that.'

Colin Farrell and Jessica Brown Findlay arrive for the premiere of A New York Winter's Tale in London in February this year
Jessica, the Berkshire-born daughter of a financial advisor and teaching assistant, puts her steely determination down to training to be a professional ballet dancer until the age of 18, when she was forced to give up after ankle surgery went wrong and she was told she'd never dance again. 'It was a bit of a disappointment,' she says, but as an optimist she quickly learned to see it as a new beginning. 'Dancing gives you a kind of determination,' she says.
'And the friends I used to train with – even the ones who haven't gone on to be professional dancers in their careers – still have it too. They're extremely focused, very driven. It just seems to go with the territory.'

'Losing weight is not going to make me a better actress,' she says. She also insists she'll never move to Hollywood, preferring her small flat in East London where her former Downton screen sisters Michelle Dockery and Laura Carmichael are still regular visitors. 'There's nothing I like more than being able to step back away from it all, go home and close my door,' she says. Oddly, she doesn't have a television but instead prefers to spend her spare time writing poetry.

Soon she may be well known for more than just British TV; although A New York Winter's Tale, her first big Hollywood movie which co-starred Colin Farrell and Russell Crowe, was critically mauled, she has plenty more exciting projects coming up after Jamaica Inn.

There's a major role in the eagerly awaited film Posh – based on the West End play about a privileged boys' drinking club at Oxford University – and she will then play Lorelei in a new film version of Frankenstein with James McAvoy and Daniel Radcliffe.

'I've got the best job in the world,' she says with a smile before wrapping up in a coat and hat that make her even more unrecognisable than before. 'The unknown excites me.'
Jamaica Inn, Monday to Wednesday, 9pm, BBC1.